Estimated reading time: 6 minutes
With so many crystals to choose from, it can seem daunting to choose the right one for the right occasion. So with valentines day around the corner, here are our top 10 crystals for love:
1. Rose Quartz
To begin we have the most obvious crystal for love – rose quartz. Commonly known as the crystal for love, rose quartz can help to heal your heart of past hurt. Allowing in all forms of love from new relationships to higher self-love. This stone will brighten your aura, as a result, making you more approachable. It also helps to clear negative emotions, such as anger, anxiety, and jealousy, replacing them with high vibrations of love and making it an ideal valentines day crystal. If you are looking for a special way to connect with your rose quartz, try adding it to your bathing water and allow yourself to be surrounded by its loving energy.
2. Red Jasper
Red jasper is a stone of passion and endurance. This reliable healing crystal can help to revitalize your body while balancing and nurturing the body's energy. Furthermore, red jasper promotes courage and vitality. For couples who are looking to reignite their spark, this is the perfect stone since it is believed to increase circulation in the sexual organs.
3. Carnelian
Carnelian is another passionate stone. Used since ancient times as a stone of fertility, passion, and courage. Carnelian is an all-around healing stone known to bring harmony between the left and right halves of the brain. It can help to build self-confidence while removing emotional negativity. It is also believed to stimulate sexual energy and boost fertility. The ancient Egyptians wore this stone to increase desire, love, and passion.
4. Moonstone
Moonstone is a sacred stone that channels the moon's energy. It is brimming with deeply feminine energy that stimulates your carnal desires and encourages eroticism. It is also filled with love and nurturing energy, assisting you to accept love in all its forms, and making it a perfect stone to carry with you on valentines day.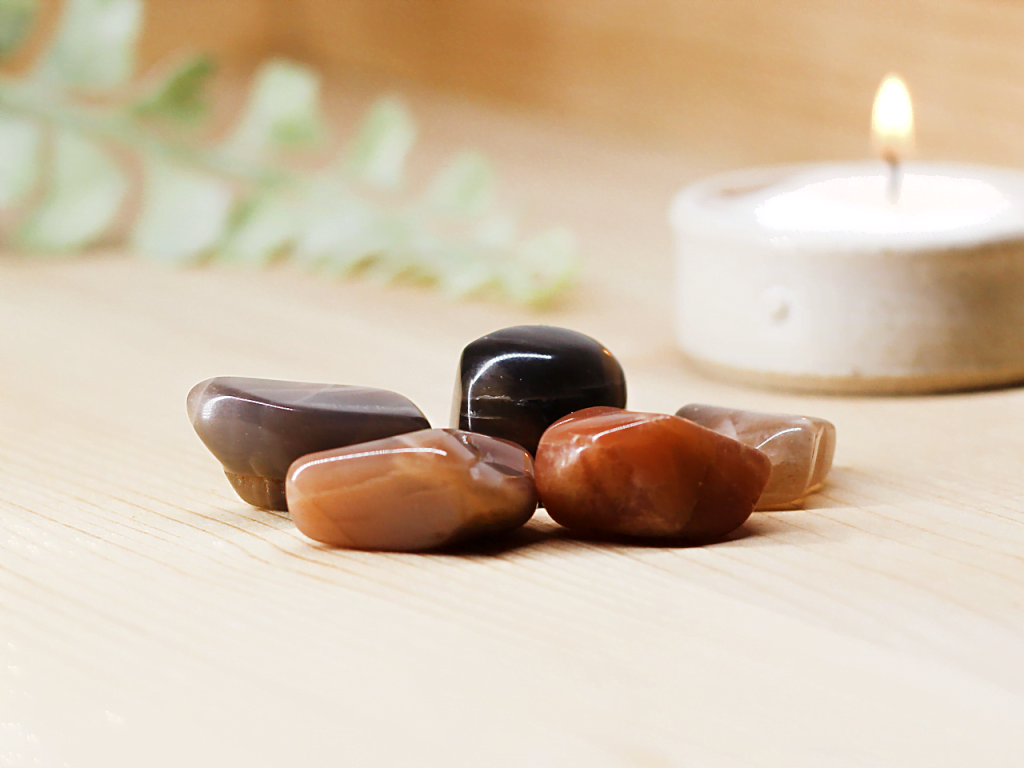 5. Moss Agate
Moss agate is a beautiful harmonizing and healing stone. Associated with the heart chakra, this stone can help to remove blockages and allow you to see the love that encompasses you. It is also a stone of abundance, helping relationships to grow and new love to flourish.
6. Rhodonite
Rhodonite is known as a stone of compassion. Helping to balance emotions, this stone can heal emotional wounds and allow you to move away from the past. Rhodonite is believed to stimulate, clear, and activate the heart. It is a wonderful stone to carry with you this valentines day, especially if you are on your own as this stone encourages self-love.
7. Green Aventurine
Green aventurine has so many qualities; there should be one in everyone's collection. It is known to be a bringer of good luck, so could help you be lucky in love. This stone also aids the removal of toxic relationships, allowing room for more supportive and loving relationships to take their place.
8. Clear Quartz
Clear quartz is known as a master healer, helping to remove blockages. Use this stone to set your intentions, once your intentions are set, clear quartz will put them into the universe turning manifestations into reality. So what are you hoping to manifest this valentines day? Furthermore, clear quartz helps to raise the vibrations of other crystals when placed next to them.
9. Garnet
Garnet is an energizing stone, that helps to remove blockages and revitalize the body. This stone intensifies emotions and not just your own but of others around you. Meaning it is a wonderful stone to have when attracting more love into your life. It is also believed that when wearing a garnet to bed with a lover, it will help to increase your body's senses adding to a more erotic love-making session.
10. Amethyst
It is said that St. Valentine himself wore a ring set with amethyst, so it has to be included in our list of top ten valentines day crystals. This is a wonderfully versatile stone with both strong healing and protective powers. It is believed by many to attract love and affection since it stimulates your heart allowing you to open up to even more love.
Have You Decided On Your Valentines Day Stone?
Hopefully, after taking a look at this list you will have pinpointed the crystals you wish to carry with you this valentines day. And if you are looking for that one special crystal the most popular stone at this time of year is amethyst, both the stone for February and a stone of love. And please do remember to tag us on Instagram @surrender_to_happiness with all your lovely valentines day photos.